Experience A New Reality With Our Cutting-Edge VR Solutions
Our Virtual Reality solutions help organizations generate a digital world, allowing users to virtually experience their products and services. Whether it is showcasing products to customers or offer remote training to employees, we have a solution for you.

We provide medical, education, entertainment, and many other industries with immersive and interactive experiences like virtual tours, VR games, 360-degree videos & images, which are backed by game engines like Unity3D and Unreal Engine.

The benefits of virtual reality
Helps with Impressive Visualization:
You can be sure about the greatness of virtual reality. It helps in exploring various facts and can even alternate the level of experience. If you wear a VR headset, you can experience the best quality visualizations. Allows Students to Get Engaged – These days it has become difficult for the teachers to conduct classroom interaction sessions. With the introduction of the Virtual Reality technicality, interaction with the student has become so easy. The students take help of virtual reality to speak about their personal experiences.

Creating Interest:
Virtual Reality has made watching more enjoyable than reading. VR technicality is extremely interesting and engaging. VR technology creates enjoyable experiences. This technology motivates the students to learn and know better in life.

Improves Educational Value:
The doctors take advantage of the VR technology to know about the new traits of medicine. VR technology also works best in fields of editing and content writing. It helps in locating mistakes in contents. There are preferred software arrangements to make fault detection's. VR technology also helps with perfect editing options.

Helps to Overcome Language Barriers:
Language barrier is a significant problem in the field of education. In case, if you are not studying in your hometown you need to adopt the dialect of the place where you are considering. With the implementation of Virtual Reality the possible language can be aptly implemented by making use of the suitable software.

Our Key Capabilities in VR Development
To us, Virtual Reality Development means bringing versatility to the table while creating VR experiences. Our VR development and design teams work closely with clients to co-create high quality virtual experiences that run smoothly on corresponding hardware.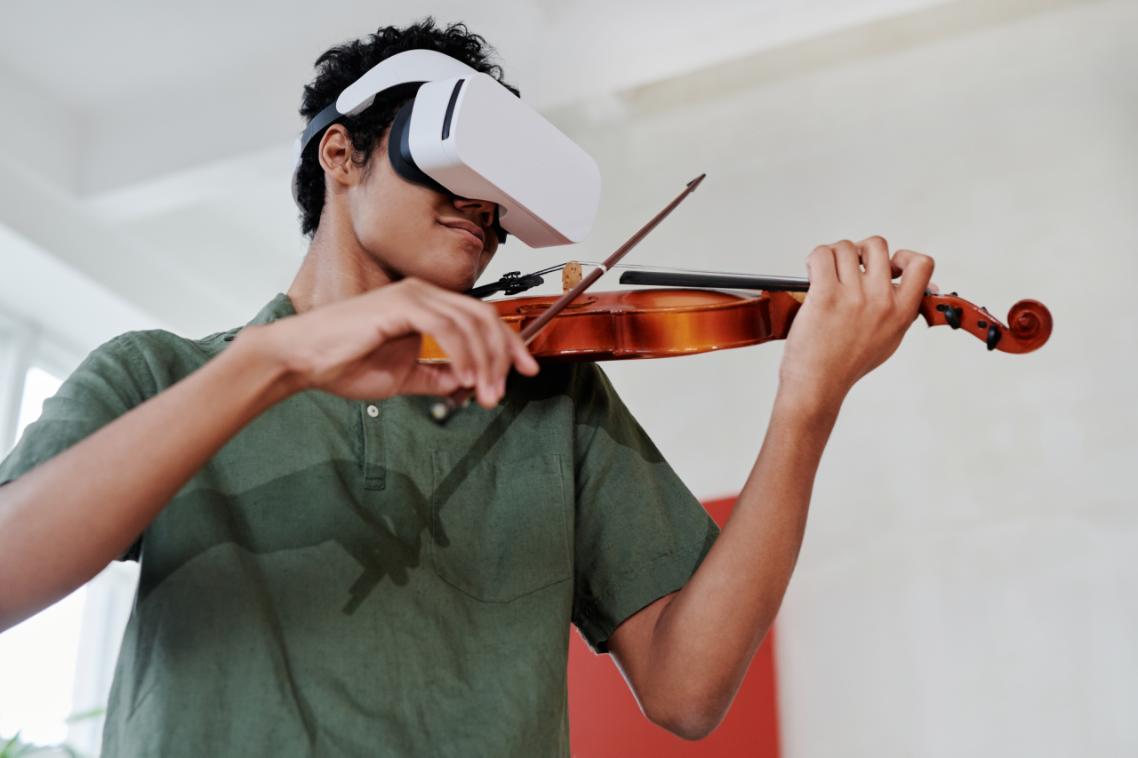 Key Advantages of Virtual Reality Development
A Brand New World: Imagination is the only limit when it comes to Virtual Reality development. An elevated level of experience can be designed based on the needs of the client. Impressive visualization that is not limited by space and time can be experienced.
Bettered Learning: VR developments to enable training and teaching are of great importance today. An immersive learning environment is inspiring and conducive to greater retention, helps fill knowledge gaps and in some cases, helps train safely.
Details Matter: VR walk-throughs can help visualize ideas in an extremely detailed manner without having to invest in the movement of products or people. Virtual Reality Development enables a consumer to explore a product wholly and make informed choices while purchasing a product.
Save Time: VR development has made it possible to be present globally without actually having to. This saves time and costs for professionals in all kinds of business fields.
Benefits of VR in Oil & Gas industry
The oil and gas industry has always faced enormous and varied risks concerning safety, politics, regulations, fluctuating markets, and physically challenging environments, to name a few. Today, however, the challenge is more complex than ever.
This industry has been facing new and unprecedented challenges. To meet the increasing demand, companies are having to do more with less. This means that they are using fewer employees and tighter budgets. How can the industry keep up with these unprecedented times?  
How VR can Benefit the Oil & Gas industry
Oil and gas companies use AR VR solutions to perform operations that reduces the turnaround time, are cost efficient, and saves a lot of time as well. Sensor-based connected devices such as rig monitoring equipment, generators, compressors, and other forms of underground drilling equipment can be integrated with AR VR enabled applications embedded in them. This has allowed engineers to perform risky operations effectively, without the need to be physically present at the site and to receive real-time information on the equipment performance and health. Rig monitoring systems need to be checked at regular intervals such for performance issues like parts breakdown, overload, and/or performance lag, and AR VR enabled applications can effectively carry out such activities with a lesser turnaround time. Further, AR VR can also enhance the visual experience of the underground layout including vital components such as geological formation, structural faults, and seismic traces, among others. Using this information, geologists, production engineers, and field engineers can make real-time strategic decisions during drilling operations. 
In addition to these, the immersive 3D view presented by AR VR helps in simulation and training in the oil & gas industry. Field engineers and process operators receive hands on expertise and enough knowledge of the entire process of production, drilling, transportation, and processing, without the need to be physically present at the site location.
In the oil & gas industry, routine processes require long hours of dedicated work under risky conditions. Due to this, an in-depth training program is essential for these, which in turn has created several opportunities for AR VR in oil and gas market ecosystem. 
Improved Asset Management & Maintenance
More Effective Workflow
Highly Skilled & Productive Workforce
Safer Oil Rigs & Wells
Better Responses to Adverse Events
Lower cost of Maintenance